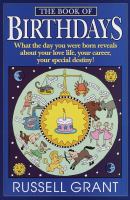 The month's question asked… what are the 12 zodiac signs? They are Aries, Taurus, Gemini, Cancer, Leo, Virgo, Libra, Scorpio, Sagittarius, Capricorn, Aquarius and Pisces.
The question (and answer) were taken from pgs 6-17 of
The Book of Birthdays
by Russell Grant. The book was published in 1996 by Dell Publishing.